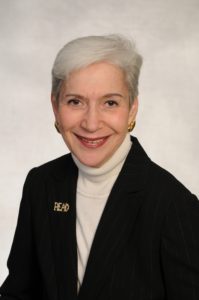 Internationally recognized for her many contributions to literacy education worldwide, Dr. Susan Mandel Glazer, 78, of Lawrenceville, N.J., passed away Feb. 13, 2017.
Born in Jersey City, Glazer was a graduate of Syracuse University (B.A.), New York University (M.A.) and University of Pennsylvania (Ed.D).
She is survived by her companion, Ernst Heilbrunn; two sisters, Lesley Morrow and Lynn Cohen; nephew Darren J. Cohen and niece Stephanie M. Bushell, along with two great-nieces and two great-nephews, and many friends.
During her 45 years at Rider University, Glazer made tremendous contributions to literacy education worldwide. She spoke at local, state, national and international professional meetings in all 50 states and in 29 countries of the world. She served as president of the prestigious International Reading Association. Among the many awards she earned were: IRA Teacher Educator of the Year, Rider University's Faculty Research Prize and over 200 literacy awards from reading councils across the world.
Glazer loved teaching children to read and college students how to teach reading. She founded and chaired the graduate program at Rider University that prepared teachers to be reading specialists. She also established the Center for Reading and Writing where children ages 5 through 17 worked with graduate students. Throughout her 35 years as director of the Center for Reading and Writing, she authored 18 books and more than 200 articles on literacy education.
Glazer's love for musical theater began when she was a Rockette as a teenager. She continued to be an avid theatergoer, enjoying Broadway shows and meeting Broadway stars. She was an enthusiastic supporter of Rider's Musical Theater Program.
Funeral services will be held Wednesday, Feb. 15, at 11 a.m. at Rider University in Gill Memorial Chapel (2083 Lawrenceville, Lawrenceville, N.J.). Burial will follow at Cedar Park/Beth El Cemetery (735 Forest Ave., Paramus, N.J.).
In lieu of flowers, memorial contributions in honor of Susan Glazer may be made in support of the Musical Theater Program of Rider University and sent c/o Jonathan Meer, Director of Advancement, Rider University, 2083 Lawrenceville Road, Lawrenceville, NJ 08648.