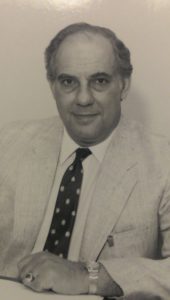 WASHINGTON CROSSING, PA… John Sternberg, 90, passed away peacefully on Sunday, October 29, 2017, after a long and fruitful life.
John was born in New York. He was a graduate of Cornell University, where he earned a bachelors degree in electrical engineering. He worked most of his career as an aerospace engineer with RCA Astro in Princeton, NJ.
John loved listening to jazz and musicals, playing bridge, doing Sunday's New York Times crossword puzzle and riding his Honda Goldwing.
Son of the late Beatrice and Edward Sternberg, husband of the late Marcia Sternberg, he is survived by his children Jim (Kathleen), Jeff (Charlene) and Hilary (Michael), five grandchildren, his wife Sharen Popkin and her three children, Danny (Robin), Jim (Robin) and Andy (Amy).
Relatives and friends of the family are invited to attend a funeral service Wednesday, November 1, at 1PM at Har Sinai Temple, 2421 Pennington Road, Pennington, NJ. Private burial will follow at Fountian Lawn Memorial Park in Ewing. The family respectfully requests memorial contributions to Greenwood House, 53 Walter Street, Ewing, NJ 08628. Funeral arrangements by Orland's Ewing Memorial Chapel, 1534 Pennington Road, Ewing.