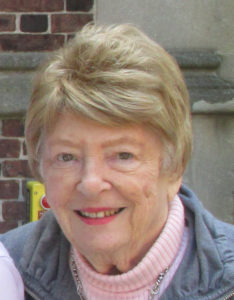 YARDLEY, PA… Joan L. Sibner, 87, passed away at her home on Wednesday, August 2, 2017.
Born in Newark, she was a resident of Yardley for more than 40 years. She was a school teacher in the Pennsbury School District, most recently teaching sixth grade reading at Pennwood Middle School. Joan loved to mentor "lost-cause" students, and help them realize their potential – many of these students returned years later to visit her. Her most enduring legacy was a program she developed for handicapped awareness; the program is still in use to this day.
Joan had an extraordinary ability to remember names, places, dates, and events. She was the record keeper of generations for her family and explored their genealogy. For her, family was everything.  She retired from teaching at the age of 70 so that she could spend more time with her grandchildren, trading one love for another that was more important.
She loved live theatre, and enjoyed music and books.   She was an active member of Har Sinai Temple.
Wife of the late Nathan Sibner and grandmother of the late Sean Sibner, she is
survived by three sons and daughters-in-law, Dr. Jeffrey Sibner and Dr. Jean Murphy, Peter and Carolyn Sibner, and Steven and Julia Sibner, and five grandchildren, Ian, Becky, Allie, Max and Ben.
Funeral services are 10:30 AM Sunday (August 6) at Har Sinai Temple, 2421 Pennington Road, Pennington, NJ. Burial will follow at Ewing Cemetery in Ewing, NJ. In lieu of flowers, the family respectfully requests memorial contributions in her name be sent to the Pennsbury Scholarship Foundation, 134 Yardley Avenue, Fallsington, PO Box 338, PA 19054.