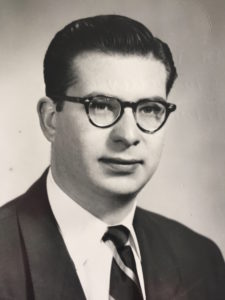 YARDLEY, PA… Dr. Milton Palat, 89, passed away at home in Yardley, Pa on September 15 with his loving wife, Sally, at his side. His incredible life was characterized by his love for family and friends, his distinguished professional and academic careers, his altruism and service to his community, and his gentle kindness that was felt by everyone he touched.
Born in Trenton in 1928 to Max and Jennie Palat, he attended Trenton High School in the class of 1945 . He graduated from University of Pennsylvania in 1948 and from there it was on to Temple Dental School where he graduated in 1953. Following graduation ,he served two years as captain in the US Airforce . Deciding to specialize, he went back to NYU Dental school , completing post graduate training in Periodontia in 1972. He could learn anything and proved this yet again ,when he returned to school and receieved his Law degree from Rutgers in 1981.
He had a thriving dental and periodontal practice in Trenton for 35 years , loved by his patients and staff. He retired in 1987,   and for almost anyone else, this would have been a wonderful career. But not for Milton.
His next career(s) was just beginning. He joined the faculty of NYU Dental School where he acended to Chairman of Periodontics in 1995. Described as an inspirational teacher, he taught multiple courses on periodontics and legal dentistry for NYU as well as Boston University . He was loved by his students and honored as teacher of the year on more than one occasion. He published a legal dental journal, as well as multiple academic articles and textbook chapters.
He held prominent positions in state and national dental and periodontal societies .He finally retired from his multiple careers at the age of 84.
He faithfully attended Adath Israel synagogue where he served as congregation president. A generous and committed community leader, he serverd as chapter President of Israel Bonds as well as UJA Federation .
He met the love of his life, Sally Greenberg Palat, at Blue Mountain Camp where they both served as camp counselors. They were married in 1951, celebrating their 66th anniversary this summer.
A great husband and father, there was nothing more important to him than his family. He is survived by his loving wife, Sally, his devoted Sister Elaine, his adoring children: daughter Pamela and son in law Bruce Wexler, son David and daughter in law Wendy Palat ,and his cherished grandchildreN, Eric and Michelle Wexler, Stephanie and Max Palat.
He leaves behind a legacy of happiness.
Funeral services and burial are 1 PM Monday (September 18) at Sharon Gardens, Valhalla, New York.