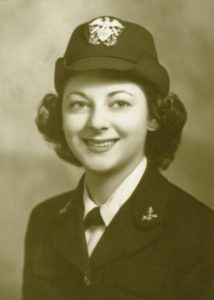 PRINCETON… Clarice "Kris" K. Warren, 93, beloved mother, grandmother and great-grandmother and happily married to George Warren (deceased 2009) for more than 62 years, passed away peacefully while surrounded by loved ones on Thursday February 9, 2017.
Born in New York City, Mrs. Warren was a long-time resident of Trenton and Lawrenceville.
She attended Skidmore College and was a graduate of New York University.
Mrs. Warren served as a US Naval officer during World War II.
She was a former trustee at The Jewish Community Centerand a member of Women for Greenwood House.  Throughout her life, Kris enjoyed golf, tennis, bridge and music.  She was an avid reader and was always interested in current events.  Children, grandchildren and great-grandchildren filled Kris's life; she had an individual relationship with each one.
She is survived by two sons and daughters-in-law William L. Warren and Diane C.A. Snyder, James I. and Janis G. Warren, a daughter and son-in-law Lisbeth A. Warren and Robert A. Cantlay, five grandchildren Andrew, Kathryn (Randal), Sara, Alexandra and Rachel and two great-grandsons, Nathan and George.
Funeral services are Sunday 11AM at Orland's Ewing Memorial Chapel, 1534 Pennington Road, Ewing.  Burial will follow at Princeton Cemetery.
The family respectfully requests memorial contributions be made to Greenwood House, 53 Walter St, Ewing, NJ 08628.