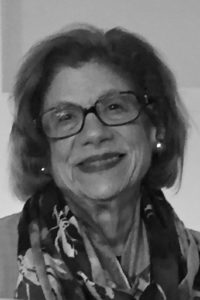 YARDLEY, PA… Carol Forer Belt, 77, an Arts Advocate and Leader in Arts Education, who fought her whole life to keep the arts alive in the public schools died at home on Monday, January 29, 2018, surrounded by her loving family. Carol started her career as an art teacher to local Trenton students when she was just a teen. She continued on to study at Rhode Island School of Design, and got her first teaching job as an art teacher in the Trenton School system.
Carol loved dance and the visual arts and studied both while at RISD. Carol believed that training in the arts was a crucial part of education and that without art we are denying future generations access to creative thinking skills. Carols career highlights included; creating and arts curriculum for the Trenton Schools where she ran the Art Department for the district, to serving as a board member for the NJ State Council for the Arts, and as a board member for Young Audiences of NJ. Carol was awarded the prestigious Kennedy Center Honor for her work in keeping the arts alive in schools.
Of her many achievements, Carol was most proud of her work in helping to establish and maintain the Trenton Educational Dance Institute, or TEDI, a program that supported dance and programing for thousands of Trenton Public School students over the past 25 years.
Daughter of the late Dr. Robert and Mildred Forer, she is survived by her husband Barry. Barry and Carol were married for 53 years and had a loving joyous marriage. Carol is also survived by two sons, David and Jonny Belt and their wives Antonia Belt and Polly Smail. She is also survived by her loving grandchildren Stella (17) Natascha (14) Grady (10) and Mazzy (8).
Funeral services are Friday February 2nd at 11am at The Princeton Abbey, 75 Mapleton Road, Plainsboro, NJ. Private burial will follow at Ewing Cemetery, Ewing, NJ.
A reception in Carols honor for all funeral attendees will be held at The Boathouse at Mercer Lake from 1-4pm. A celebration of Carol's life in the arts will be held in mid May.
The family respectfully requests memorial contributions to
http://www.bcfny.org/carol-belt-memorial-fund
The fund will donate to arts groups that support Carols life-long mission of arts education.